Darrell's Waterbeds was founded in 1991, and is owned and operated by Darrell Halbert.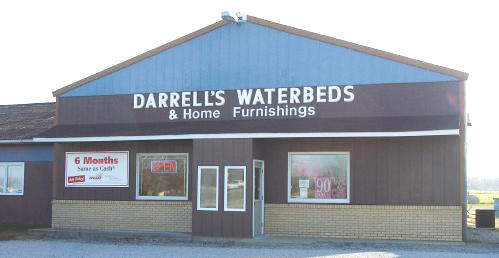 Darrell has over twenty years experience in the sales, installation, and service on all waterbeds and related products.
Darrell's Waterbeds serve all of East-Central Illinois and Western Indiana.
We offer special size conventional mattresses from Bemco to convert your old waterbed frames, as well as modern waterbed mattress. Futons and Futon mattresses are also available.
Darrell's Waterbeds also offers Air Beds from Innomax, as well as all types of accessories from Calesco heaters to sheets, pillows, and comforters, plus furnishings from American Wholesale Furniture,
MidAmerica Furnishings and other fine brands.
If you have never experienced the comforts of a modern waterbed you owe it to yourself to come to our Danville Illinois location and see our large selection. Prove the luxury to yourself.
Darrell's Waterbeds is East Central Illinois' and Western Indiana's largest source of fine waterbed and bedroom furnishings, waterbed services, dining room and living room furniture.